Get Results From Your Solo Ad Through Email List Building
The Truth About Getting Sales Online
These days savvy online consumers make quick gut decisions on whether they will do business with you within 3-8 seconds!  Your potential customers are doing more of their own research before deciding to buy  – BUT, it all boils down to this…
Getting sales through online methods requires that your leads KNOW, LIKE, and TRUST

both

you and your service or product.  
. . . So, how do you accomplish that? . . .
Establish Your Business Foundation
Successful businesses establish their "reason for being" by knowing who they are trying to help, how they solve problems, and what sets them apart from their competition.  This foundation drives all marketing efforts.
YOUR TARGET AUDIENCE
Your target audience is the holy grail when it comes to business!  This is where sales come from and everything you do  – from the product you offer, to the content you create, to the follow up you provide – MUST lead back to your 'perfect customer'. You'll want a deep understanding of your buyer's personas and what triggers them into action.
UNIQUE SELLING POSITION
"Why Should I Buy From You?" … is what your perfect customers will be asking themselves.  So, TELL THEM how you are different than your competition with a USP. Your USP should be something your target audience cares about.  You'll maintain the 'scent' of your USP & business brand throughout your marketing content.
YOUR ONLINE CONTENT
Your website, landing page, or even social profiles need content that 'speaks' to your perfect customer.  Not only do you need to showcase how you solve their problem, but why they should listen to you.  It's recommended to funnel your visitors to a 'capture page' so you can continue the conversation through email.
BUILDING RELATIONSHIPS
Since getting sales depends on your target audience knowing, liking, and trusting you & your business, so building a relationship with them through consistent and customized communication is crucial.  The style of the communication varies, but should be distinct for your audience, your business, your personality, and your goals.
Understand The Buyer Journey …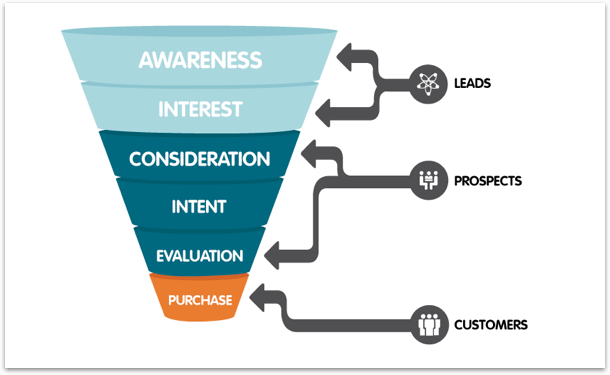 It is recommended that the landing page for your email Solo Ad be focused on attracting buyers in the Awareness stage since you'll be reaching 'cold leads' – those that are likely new to their problem OR to your business.
Content For Each Awareness Stage …
New leads may not be in a buying mode at the first introduction to your business/offer, so provide FOCUSED content to 'warm' them towards a sale!
Greg Hickman (of the AltAgency) devised a "Ready Buyer Matrix" based on a study of website conversions that found:
50% of your visitors will never invest in a solution to their problem (or decide that your solution is not right for them).  Of the remaining 50% of visitors who stay, 15% will invest in a solution within 90 days and the other 85% will be ready to purchase between 90 days and 2+ years.
Additionally, based on a study published by Marketing Donut, only 2% of sales occur at the first encounter. 
… AND The 'Conversion Math'
These numbers can be improved upon (of course). By looking at the percentages, doing the math, you can get a sense of how you're doing and how many subscribers are needed.
The Importance of Email List Building
Given the buyer journey, awareness content, and sales statistics, your email Solo Ad will reach only a small percentage of individuals who are ready to buy right away. This is why upfront sales can be hard to obtain. Keep monitoring the conversion math of your new leads  …  the money is in the follow-up!
What Is Your Advertising Goal?
and how will you measure it?
Yes, yes, … we all want sales, but per your understanding of the buyer journey, instant sales can be difficult to obtain without warming up your leads.  So, how will you do this?  What is your business strategy?


Do you want your leads to watch a video? Perhaps track how long visitors watch the video.



Schedule an appointment? Decide how you will track appointments generated from your email ad.



Subscribe for more information? Determine where you will view the number of subscribers you obtain.
Solo Ad Solutions is focused on providing you leads. For our CLICKS service, we track the performance of your Solo Ad on how many subscribers you obtain. For our BLAST service, we are looking at the number of opens, but more importantly, how many people clicked through to your landing page.
How To Prepare For A Solo Ad
Once you have your business foundation determined, know what information you will share for each stage of the buyer journey, and a goal for your advertisement,  … make sure you have the final pieces of the puzzle ready.
VISITOR LANDING PAGE
You'll need somewhere for your leads to "land" when they click-through a link on your email Solo Ad.  The primary goal of your landing page should be to convey the problem your offer solves, why visitors should listen to you, and a way to capture their email address for further follow-up.
EMAIL AUTORESPONDER
An email autoresponder will make your life easier! It'll provide you the ability to collect and track subscriber engagement, as well as a way to create and schedule email content. Furthermore, you can build trust with your new leads through an essential 'welcome sequence'!
WELCOME EMAIL SEQUENCE
Build a relationship (and trust) with your new lead by explaining more about the solution you provide, present content that addresses the various buyer stages, give them a chance to learn more about you, as well as keep you top of mind for when they're ready to buy 🙂
Solo Ads For Affiliate Marketers
You might be wondering if any of this "stuff" applies to you if you are promoting other people's products (and potentially using their marketing material).  YES, you should consider these concepts due to the high amount of competition!!   … Remember, people buy from people or businesses they know, like, and trust – so establishing your own identity, your own 'voice' and perspective is important.  You will get more sales if you build your own tribe of followers who are interested in what you have to share.
RECAP:  Be Unique & Follow-Up.  …Questions?


Send Us A Message!

Search for our Skype name:

Jannell & Joe (Solo Ad Solutions)
We are creating an email series that will discuss in more details the concepts shared above.  If you are new to digital marketing, it'll be filled with value.  If you are a seasoned pro, you might pick-up a gem or two.   Add yourself to the list to be notified when the sequence is available … and thank you for your patience!